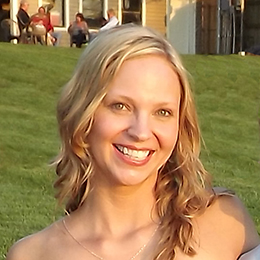 Has a positive outlook and can-do attitude. Enjoys Louisville and traveling. Found the zen of web coding. Practices yoga, but manages to stay clumsy. Has been watching SNL since 1986. Excellent at dreaming up big ideas. Finds joy in keyboard shortcuts. Wants to paint more.
---
I am a creative and thoughtful designer. I actually take the time to make a grid and stick to it. Or sometimes, I just throw all the rules out the window. I recently took the StrengthsFinder quiz and I think it was actually pretty accurate:
Strategic, Achiever, Futuristic, Relator, Learner
Strategic
Instinctively, they invent original ideas of their own. Their imagination is typically stimulated when they collaborate — that is, team up — with future-oriented thinkers. By nature, they can reconfigure factual information or data in ways that reveal trends, raise issues, identify opportunities, or offer solutions.
Achiever
They have an internal fire burning inside them. It pushes them to do more, to achieve more. After each accomplishment is reached, the fire dwindles for a moment, but very soon it rekindles itself, forcing them toward the next accomplishment.
Futuristic
Driven by their talents, they might create vivid mental images of what they plan to accomplish in the coming weeks, months, or years. Maybe they delight in sharing some of their dreams and goals with others. It's very likely that they may help people see the opportunities and possibilities that await them in the coming months, years, or decades.
Relator
People who are especially talented in the Relator theme enjoy close relationships with others. They find deep satisfaction in working hard with friends to achieve a goal. Chances are good that they feel comfortable being open and honest about who they are.
Learner
With this strength, people understand that education is a process that continues throughout one's life. It's very likely that they sometimes enroll in difficult or demanding classes. They might aim to expand their knowledge or challenge their thinking about certain things. Instinctively, they might yearn to be inspired by their work.